In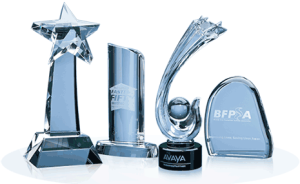 previous blogs, we have described the beautiful ranges of glass and crystal corporate gifts that are available, to celebrate those special moments in a company's or organisation's history, or simply used as premium gifts for important clients, award winners or visiting dignitaries.
Various designs of awards are available, as well as paperweights, penholders, glasses and desk clocks, all of which would be sure to be well received with a high perceived value and greater longevity than many alternative gifts.
There are various options available for personalising these glass and crystal items, depending on the complexity of the design required and, of course, budgets and lead times:
Sandblast Engraving is the most traditional method for etching a permanent design into the surface of the object, leaving a frosted finish on the surface.  This method tends to be time-consuming and it is more difficult to achieve highly detailed designs, compared with more modern techniques.
Low Fire Colour Printing is used to transfer a decal onto the surface of the glass or crystal object.  It can be used to match Pantone colour references, and is best suited to awards that are intended for display only, rather than day-to-day handling.
Sub Surface Laser Engraving can be used to create 2D and 3D images that appear to be suspended within the centre of the transparent objects.  Logos and text will always be imprinted as 2D images.
Full Colour Digital Printing allows the reproduction of full colour photographic images, logos or script.  It can only be used on flat products.
High Fire Colour Printing is the most permanent method for transferring a decal to the surface of a glass or crystal design due to the more aggressive process condition.  However colour options are more limited and it is not possible to match Pantone shades exactly.
Colour Infill can be used to add a variety of colours into a sandblast engraving design, giving a truly bespoke appearance.
Other methods used by the glass and crystal industry include inverted engraving, whereby crushed glass is applied to the surface of the product.  This is then secured onto the surface via high temperatures firing, creating a permanent but highly detailed final design.  This method is particularly effective for the reproduction of monochrome photographic images, since it allows the use of half-tone shades.  A colour version of this inverted engraving method is also possible, but again exact Pantone matching is not possible due to the very high temperatures involved.
So, whatever your requirements are for glass or crystal awards or gifts, there are plenty of options available to achieve that truly unique and highly valued memento.  Contact Pennline today to find out more about these beautiful designs.