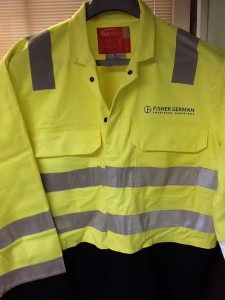 When it comes to the personalisation of your carefully selected corporate workwear outfits, there are a number of options available and factors to consider, in addition to the usual issues of cost and leadtime.
Depending on how many pieces of information you want to display on each garment – company name, logo, tagline, individual's name, contact details, etc – you will need to decide the optimum position(s) for the printing or embroidery to be located.  For shirts/fleeces/jackets, suitable locations include left chest (above the pocket, if present), right chest, sleeves and upper back panel.  For joggers or leggings, a name printed vertically down one leg can be  very effective, and for workwear trousers such as cargo or chino designs, a simple logo on or above the back pocket, but below the belt line, can look great.  For caps and hats, these too have multiple possible personalisation options, for example above the front peak of a cap on the side of a beanie.
In terms of the choice between embroidery and screen printing, there are a number of factors to consider, including the size of the image, the complexity of the design, and the type of fabric that the garment is made from.  Embroidery can often look great in most situations, but tends to be more expensive than screen printing, is generally only suitable for smaller print areas, and has limitations in terms of more complex images and smaller/unusual font choices.  Screen printing represents fewer restrictions in terms of specific/smaller fonts and complex logos, and can be used economically on much larger print areas.
Here at Pennline, we have a huge amount of experience in helping clients select the most eye-catching and cost-effective workwear solutions for both embroidery and printing options.
We look forward to hearing from you and helping you develop the right image for your company or organisation.