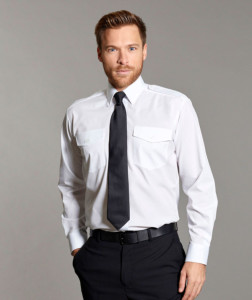 In addition to the standard ranges of formal and informal workwear supplied by Pennline, we can also supply more specialised  garments to suit particular situations, professions and client requirements.
Our supplier Disley manufactures a selection of formal shirts called the Pilot range – although of course you don't need to be a qualified aviator to wear one! Available in men's and ladies' styles in both long and short sleeve designs, these Pilot shirts are manufactured from a 115 gsm 65% polyester 35% cotton fabric which is machine-washable and easy to iron.
The shirts feature two breast pockets with button-through flaps, smart classic collars, a single pen pocket and shoulder epaulettes.  The men's version is supplied in white only.  The white men's variant is also available with a single radio loop above the right chest pocket.  This version of the Pilot shirt can also be ordered in either long or short sleeve versions, to suit the climate at your destination!
Another Disley shirt offered by Pennline is their Security formal shirt.  Made from the same 115 gsm easy-care fabric as the Pilot shirt, the Security shirt also features a formal classic collar and two breast pockets, with button flaps and a pen divider in the left pocket.  The Security shirt has two radio loops – one on each side above the pockets and button/loops on the shoulders to attach epaulettes.
Available in white only and in long or short sleeve designs, the men's Security shirt comes in collar sizes ranging from 14.5″ to 21″, whereas the ladies' version can be ordered in sizes 6-30.  This size range also applies to the Pilot shirts.
In common with all workwear supplied by Pennline, we can arrange for your garments to be customised with company logos or the wearer's name, either via embroidery or our in-house design/print service.