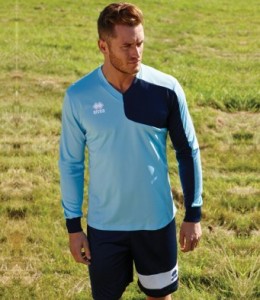 Errea is an internationally renowned sportswear brand, formed nearly 30 years ago in Northern Italy.
Pennline are pleased to offer a wide range of Errea garments, equally suited to amateur football clubs, schools/university teams and professional organisations.
The range includes clothing for the training ground – tops, trousers, jackets and bibs – as well as a choice of kits for match day itself – long and short sleeved shirts, shorts, socks and goalie outfits.  There is also a choice of holdalls, of various sizes and capacities, to carry the kit to and from games.
Clothing is generally made from a high quality 100% polyester material, and is available in a wide range of colours, styles and sizes.
As an example, Errea's Marcus' football shirt is a long-sleeved v-neck shirt with a taped neck and twin needle hem.  It is available in six vibrant two-tone colour ways, with the second colour making a contrasting shade on the cuffs, the left arm and a chest panel.  The colour options available are blue/white, red/black, red/white, sky/navy (shown in photo), white/black and yellow/blue.  Sizes range from Small (32″/34″ chest) to XXL (44/46″ chest).
In common with most of the clothing supplied by Pennline, these Errea teamwear items can be personalised via our in-house design and printing service.  Whether it is squad numbers, team name or sponsor's logo, we can make sure your group of players looks the part when they run out onto the pitch.  What happens after that is up to them!