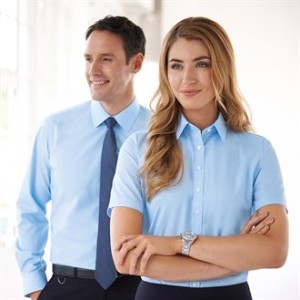 We have been fortunate enough to add a significant number of new product lines to our formal work range so far this year.  And the new products keep on coming!
The renowned manufacturer Brook Taverner has added four new shirts and blouses to their impressive product line-up.  Aimed squarely at the formal end of the workwear market, these high quality blouses and shirts are made from a machine washable 115gsm polycotton blend (65% polyester, 35% cotton) and all are available in either white or blue.
The women's blouses are available in either short sleeve – called the Eos – or long sleeve variants.  They have been tailored to ensure a classic fit blouse, and the long sleeve version – the Selene-also features a two-button cuff.  Available sizes range from 8 to 20 in both short and long sleeve versions.
The men's versions look equally good with or without a tie, and both feature a convenient and stylish chest pocket.  Again, there is a short sleeve-the Juno- and long sleeve- the Vesta – version available, in collar sizes ranging from 14.5″ through to 18″.
Pennline can customise these garments with a choice of screen printing – which is done In-house by our experienced team – or premium embroidery.  A logo or name can be added to either the chest or upper sleeve area, to ensure your brand and team members get noticed.
Whatever your organisation's workwear requirements, Pennline have the product range and experience to ensure you make the best choices, and we pride ourselves in going the extra mile to make sure customers are nothing short of delighted with the service they receive from us.