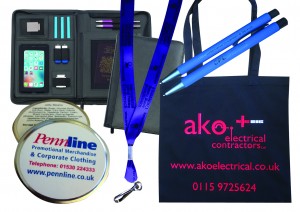 Most industries have events, such as conferences, where key decision makers and experts gather to share latest ideas and best practice.
Such events are an excellent opportunity to promote your organisation, by giving attendees something memorable and useful to take back to their own offices, factories, schools or clubs.
The size and nature of the event, and its relative importance in your marketing strategy, will influence the ideal choice of marketing giveaway for the conference, but there are lots of ideas to choose from including the following:
Pens-always a favourite promotional item, and one that is likely to get many months of brand exposure, especially if a high quality or novel design is selected, making it the user's first choice in a crowded pen pot!
Lanyards– can be used to add a splash of colour as a holder for name badges, USB sticks or security passes.
Folders – available in plastic or luxury full leather, these conference essentials can be customised with various type of printing or embossing, and can also include branded notepads, pens, calculators or memory sticks.
Bags – whether it is a traditional shopping-style bag or a more sophisticated over-the shoulder document or laptop carrier, they all offer a large surface area or branding, as well as being highly practical items that can be used long after the conference has finished.  They can be handed out at the delegate reception area and pre-filled with corporate literature or small branded gifts.
Sweets– these days there are lots of options for delicious branded confectionery, and whilst they may not last as long as some other giveaways, they are sure to be enjoyed by delegates and their colleagues or families!
Umbrellas – particularly useful for events held in the winter months, or with an outdoor element such as product display, branded brollies are available in various sizes and represent fantastic branding opportunities.
So, if you are planning to host or sponsor an important conference, corporate event or product launch in the near future, talk to Pennline about making the most of this great promotional opportunity.