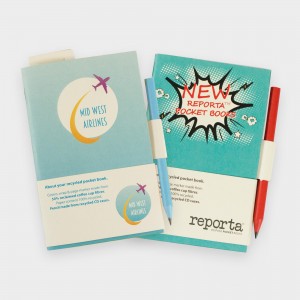 The issue of single-use coffee cups, and their environmental impact, has been in the news a lot recently.  Here at Pennline we take our corporate social responsibility very seriously, so we were delighted to hear about a new range of eco-friendly notebooks for the corporate merchandise market that is made from recycled materials, including a significant proportion of recycled coffee cups.
The Reporta® eco-friendly notebooks, manufactured in the UK, form part of the Green and Good® range, and have covers, outside wraps and page markers made from high quality 270 gsm card that contains 50% reclaimed coffee cup fibre.  These elements of the design can be full-colour printed with your name, logo, contact details, environmental message etc.
The internal sheets of the eco-friendly notebooks are 80 gsm 100% recycled paper, either plain or lined.
The Classic pocket notebook comes as standard with the wrap and page market included.  Also available is the Prime version, which includes a novel pencil inside an integral card loop riveted securely to the back cover.  The pencil also has strong environmental credentials, being manufactured from recycled CD cases and is available in 13 standard colours.
So, make a note to give Pennline a call and find out more about our range of environmentally responsible marketing products which, in addition to these Reporta® notebooks, also includes several items made from recycled plastic, such as key rings, name badges and ice scrapers, as well as a Craghopper fleece made from recycled plastic bottles.
Being associated with eco-friendly products sends a strong message to your suppliers, employees, and customers regarding your responsible and considerate approach to running your business.
We look forward to hearing from you.