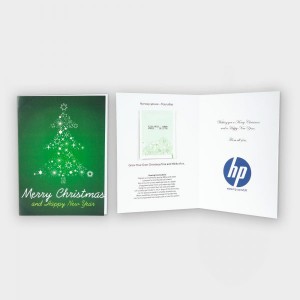 Pennline offers a huge range of promotional items for the festive season, from light-hearted gifts to high-end luxury hampers.
How about a grow-your-own Christmas tree, available either as a sachet of seeds within a Christmas card, or as a kit in a tiny terracotta pot? Admittedly they won't be fully grown in time for this year's festive season, but it represents a fun and long-term gift that the recipient will nurture and appreciate over time.
Food and beverage-based gifts are always popular at this time of year and are an ideal option as a branded corporate marketing idea.  Premium quality wines and other beverages can have customised labels printed, offering a festive tipple for your employees or key customers whilst reminding them of your products and services during the holiday period.
Advances in food-grade printing techniques have resulted in food-based gifts becoming more popular, with tasty biscuits and sweets able to be personalised with your company logo or corporate message.
With Pennline's access to multiple clothing suppliers and high quality embroidery and printing service, how about a personalised branded range of clothing for a fund-raising charity event or the office party?
High-tech gifts such as power banks, phone chargers, holders and cases are popular all year round, but also make excellent Christmas gifts due to their high perceived value and their relative simplicity in terms of packaging and logistics.
Your employees are you most valuable asset, so show them how much they are appreciated by arranging for a branded gift at the end of the year.
Here at Pennline, we have a great deal of experience in sourcing and delivering the widest range of branded promotional products, so get in touch and we help you make the most to the festive season.