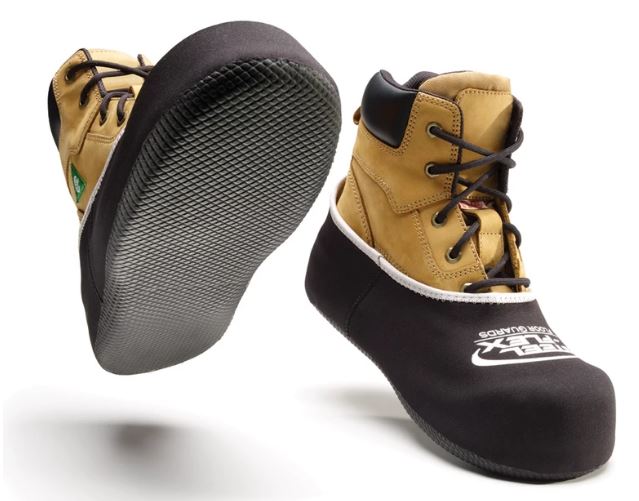 If your business involves deliveries to customers' homes or offices, but requires the wearing of safety footwear to protect your teams' feet, then it makes sense to try to avoid dragging mud and dust into their properties.  Not only is this a courteous and respectful thing to do, but it also avoids the cost and bad publicity involved with having to clean up after the visit.
The new Floorguardz reusable overshoes, manufactured in the US by PPE specialists Steel-Flex, are ideal for this type of situation, providing a more robust and grippy alternatives to traditional lightweight disposable shoe covers.  The Floorguardz overshoes are made from durable and practical neoprene rubber, with an embossed sole for improved grip on tiled and hardwood flooring.
The ambidextrous design means that you never get your lefts and rights mixed up and their integral pull loop means they are very easy to get on and off.
Three size options are available, differentiated by the internal colours of the overshoes(all have a black exterior):
Medium – Under Mens' size 88 (US): yellow interior
Large – Size 8 to 12 (US): red interior
Extra Large – Over size 13 (U): blue interior
The Floorguardz overshoes are easy to keep clean, via simple rinsing under a tap, making them ideal as part of your delivery drivers' kits, that can be used again and again for maximum cost benefit.  They can equally be used over regular footwear, in additional to the safety boots application described here, making them suitable for a wide range of situations where extra interior cleanliness is required, for example in show homes or in food preparation facilities.
For more information about these versatile overshoes, please contact the team at Pennline today.  Don't drag your feet – give us a call!