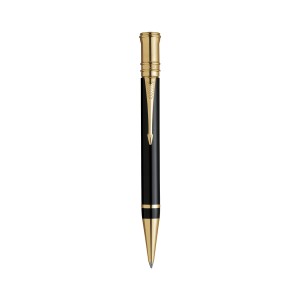 A high quality writing instrument remains one of the most desirable and valued of promotional gifts offered by our industry.  It is an item that the recipient will look forward to using on a regular basis, and will hopefully be cherished for years to come.  In addition, as well as offering a premium writing experience, the fact that these refillable high-end pens are engineered to last means they actually offer an environmentally friendly alternative to cheaper, disposable items.
Some of the best known pen brands have been around for over 100 years, and it is this enduring legacy of quality and desirability that make them so well suited as a special gift for that valued client to business partner.
Pennline, the East Midlands' leading supplier of premium marketing merchandise for the corporate gifting market, can offer a range of luxury writing instruments from manufacturers such as Cross, Parker and Sheaffer. These three brands, which between them can boast over 400 years of pen making experience, represent the epitome of luxury, desirable and high quality writing instruments.
Depending on the model chosen and your own particular requirements, these premium pens can be personalised with various printing or engraving options, and can be supplied in gift boxes, which in most cases can also be customised with company name/logo, as required.  Pens can be supplied individually, or in twin sets, for example ball pen and roller ball.
To find out more about the range of luxury pens we can supply, together with printing and packaging options, please contact our team today.  You can be assured of the "write quality" of service when you choose Pennline!