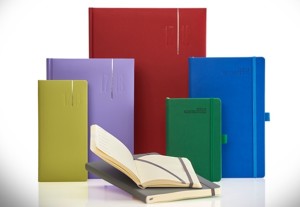 We may only be halfway through July, but now is a great time to be thinking about corporate diaries and calendars for 2018, especially while stocks are high at suppliers.  These items represent a popular and effective promotional item, ensuring your branding and corporate message is in front of your customers, prospects and staff every day of the year.
Pennline offer a wide range of diaries, in a variety of popular formats and sizes including pocket, A5 and quarto.
Thanks to advances in digital printing technology, Pennline can now offer a number of items personalised with individual's or a company's names featured prominently within the calendar or diary, making it a fun but extremely useful corporate gift.  Imagine a calendar where every new month reveals a stunning colour photography, modified with your recipient's name or your organisation's details.  It is bound to be a conversation starter, which is exactly what you want from a promotional item.
Front covers of diaries can be personalised with the name or logo of your company or organisation, and can be finished in gold, silver or blind embosses, giving a high quality and eye-catching design. Some diary designs can also be offered with custom inserts, useful for describing your organisation's products and services and providing all the necessary contact details.
In addition to the traditional 12-month diary, Pennline's range also includes the so-called Mid Year Diary.  These cover 18 months, from July through to December of the following year, and are particularly suited to students, teachers and other professionals linked to the education sector.
So contact Pennline today to discuss our wide range of diaries and calendars, or put a note in your diary to call us before you forget!