As the nights draw in and we spend more time going about our day-to-day business during the hours of darkness, it is important to consider personal safety on our busy roads and thoroughfares.
Adding an element of reflectivity to your outfit or accessories means that motorists will spot you in plenty of time, dramatically reducing the risk of serious injury.
In addition to our wide range of high visibility vests and workwear jackets, Pennline also supply a number of other items that have road safety in mind.
The Fare 7471 Reflex AC Golf umbrella (shown below) is a large, automatic, windproof design with a reflective outer coating on the canopy.  This UK-produced brolly also features a high quality soft-touch handle with integrated push-button, silver detailing and promotional labelling option.  With room underneath its broad canopy for two people, you get twice the protection on rainy days!
The Meteor is a small spherical reflective device, about the size of a tennis ball, that features 360° reflectivity across its entire exterior surface.  It is designed to attach easily to bags, bike saddles and clothing, via the built-in carabiner clip, and will reflect vehicle headlights up to 300 metres away.  The Meteor opens up, via its coloured zip (five colours available), and can be filled with an item of your choice, including a high visibility rain pouch, saddle cover, bag cover, first aid kit or gym bag.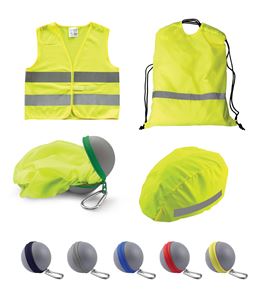 Other reflective safety items, particularly aimed at the junior schools market, include various hangers, magnets, slapbands and stickers, available in a wide range of shapes, sizes and styles, all ready to use, to add that extra level of safety to your child's journey to or from school.
For more information on any of these items, and to find out about our in-house "design and print" customisation service, please contact Pennline today.  It's the bright thing to do!