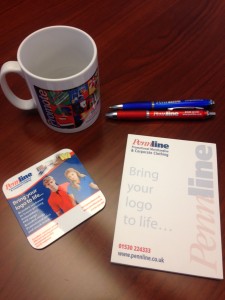 When you want to get your brand in front of your potential customers and business partners, branded desktop accessories are a great way to maximise your exposure, providing them with a practical, useful item that is on show throughout the working day.
The branded pen remains the most popular office accessory and will always be a vital tool in the marketer's toolbox, but there are many other items that make great corporate giveaways and are sure to find their way onto the desks of busy professionals in your target organisations.
High quality notepads can be embossed, debossed or printed with your logo, tagline or contact details.  Not only will they sit prominently on your customer's desk, they may also be taken along to meetings and conferences too, dramatically increasing your brand exposure.
Coffee mugs offer multiple printing opportunities – including photographic quality images, so they are a great way to get your message or products in front of your clients during their much-needed tea break.
Phone chargers, both wired and wireless, are an increasingly popular marketing tool, bringing a high-tech approach to the corporate gift and which are certain to be well-appreciated by end users, especially when their phone's battery is on its last legs and they have an important call to make.
Other desktop accessories that lend themselves well to branding include coasters, mousemats, pen pots, calculators and Post-it type labels, all of which offer an excellent printing area for your brand and are sure to be used repeatedly by their recipients.
When selecting a desk accessory for your next marketing campaign, be sure to think through the style, content and quality of the printing of the article.  what you're after is a clear, simple display of your brand and one that will not fade or wear away over time.
Here at Pennline, the East midlands' leading supplier of corporate merchandise, we have a great deal of experience in helping our customers select the ideal marketing items for organisation of all sizes.  We can assist with the designs to be used for your items and, in many cases, can make use of our in-house printing capability to provide a truly personalised service.