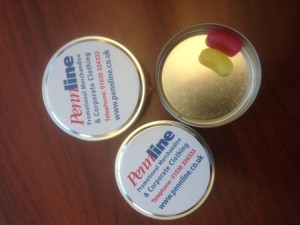 Everyone deserves a treat from time to time, and the feel-good factor associated with this simple act is a great opportunity for you to get your brand in front of your customers.
Pennline offers a tempting range of confectionary products, all of which can be personalised with your company or organisation's name or logo.  The products on offer include high quality metal tins (rectangular or circular), see-through sweetie bags, as well as traditional bars.
The mouth-watering choice of contents depends on the packaging style selected but the range includes mints, toffees, fudge, nougat, fruit drops, jelly babies, pastilles and American Hardgums, to name just a few! Sizes and weights vary dependant on the style of packaging and contents chosen.
Pennline also offer traditional seaside rock sweets, available in a wide range of flavours and colours.  These sweets can be personalised with up to 10 characters through the middle of the confectionary, for a truly novel and enjoyable marketing giveaway.  With a typical shelf life of 18 months, these rock sweets are also practical items, ideal for exhibition stands, reception areas and conference "goodie bags".
Please contact Pennline today to find out more about this tempting range of promotional items – you know you want to!