A few weeks ago our blog featured the exciting range of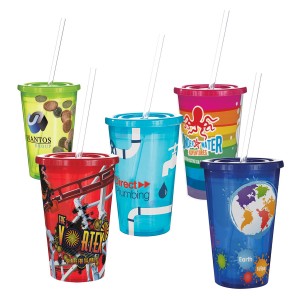 H2O Active Sports Bottles.  The same manufacturer has also introduced a brand new and innovative cup, called the Brite Stadium Cup.
The unique feature of this new drinkware item is the in-mould labelling, allowing your colourful design to be moulded into the cup itself, wrapped all the way around for maximum impact.
This British-made 300 ml cup is equally suitable for outdoor events, theme parks and festivals and has a number of other excellent features:
Robust design – virtually indestructible under normal use;
Dishwasher safe;
Screw-fix lid'
Solid clear plastic straw.
The Stadium mug can be ordered in eight translucent colours:
Trans aqua
Trans dark blue
Trans fuchsia
Trans lime
Trans orange
Trans purple
Trans red
Trans white
The cups and lids can be ordered in matching colours, with the exception of the white cup, which can be ordered with any of the eight lid colour variants.
Drinkware items such as the Brite-Stadium cup are ideal promotional products, particularly for the summer months, so give Pennline a call on 01530 224 333 to find out more about our impressive range of cups, mugs and bottles.