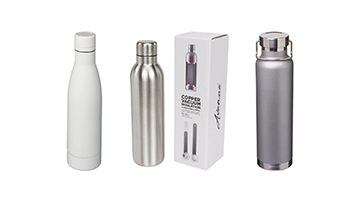 The "Avenue" range of insulated sports bottles, now available from Pennline, boasts an impressive thermal performance. Thanks to the use of double-walled stainless steel construction, with vacuum insulation and the inner surface being copper plated, these fabulous bottles can keep the heat in hot drinks for up to 12 hours, whereas cold drinks can be kept cool for up to an impressive 48 hours. The innovative construction also prevents condensation forming on the outside of the bottles, meaning they stay dry in your pocket, bag or luggage.
This impressive insulation performance, together with their robust stainless steel construction, makes them the ideal travelling companion for business trips, exhibitions or for a variety of sports and leisure activities in your spare time.
The Avenue range comes in three sizes, all available in a range of colours and finishes, meaning they can be matched to your organisation's branding guidelines or marketing objectives.
The "Vasa" cop vac bottle is a slender design, 26 cm in height, and with a liquid capacity of 500 ml;
The "Thor" standard bottle has a slightly higher capacity, at 510 ml, and like the other products in the range, has a stainless steel screw-on-spill-resistant lid;
The largest bottle in the range, has a capacity of 650 ml. It has a durable stainless steel hand loop, for added convenience, and a wider opening to facilitate filling and pouring, and making it suitable for the addition of ice cubes.
These bottles can be printed, in up to four colours, for additional brand impact – the Vasa has a print area of 20 mm wide by 50 mm high, whereas the larger Thor bottles have a print area 20 x 70 mm. They are supplied in individual protective polybags, 24 to a carton, and can be supplied in individual gift boxes if required.
These fantastic and stylish insulated bottles make an ideal corporate gift, with a high perceived value and usefulness, as well as offering a long service life due to their metal construction.
If you would like any further information or pricing indications on these items, please let us know.