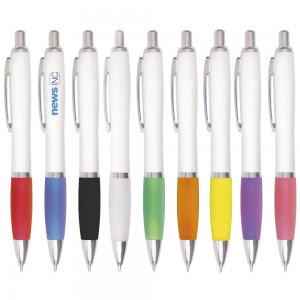 As the popularity of some promotional items ebb and flow – remember the Newton's Cradle?? – the humble ball pen remains the perennial go-to marketing giveaway, retaining its long-term top spot in terms of the most popular promotional products offered to businesses and institutions.  Indeed, a recent survey indicated that nine out of ten business professionals have a promotional pen on their desk, proving what a vital marketing tool the pen is, to get your brand in front of your customers or prospects.
Promotional pens come in a huge variety of designs, materials, colours and price points, from the basic plastic item with single-coloured print through to premium branded pens (May 2016 blog), often with matching cases, with sophisticated laser engraving techniques used to add the finishing touches.
Mid-priced aluminium pens are becoming increasingly popular, offering the perfect balance between perceived quality and affordability.
Printing techniques have also become more sophisticated in recent years, with multiple-colour and photo-quality images being possible, and 3D raised-relief finishes also being an option from some manufacturers.
Eco-friendly versions made from recycled plastics or paper fibres also allow an opportunity to convey your organisation's environmental and CSR (corporate social responsibility) aspirations, and help to counteract the "throwaway" image sometimes associated with poorly chosen giveaway items.
With so many designs and style to choose from, making the "write" choice when it comes to selecting the optimal promotional pen for your organisation's requirements and budget can seem quite daunting.  Here at Pennline, a leading supplier of marketing items based in the the East Midlands, we are ready to help you through this selection process.  With an experienced team and an impressive supplier base, we can always (ball)point you in the right direction!