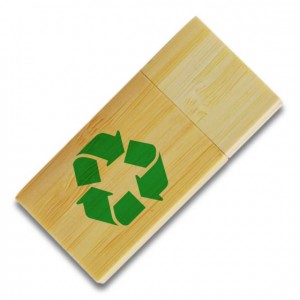 USB memory sticks, or flash drives, are a very popular corporate gift, with a high perceived value and offering excellent branding opportunities.
Not only can the outside of the memory stick be branded with your logo, website domain or contact details, you can also load the memory stick with your company's brochures, sales presentations, corporate videos and high resolution images.
An increasingly popular recent trend is the use of different types of wood for the outer body of the memory stick.  There is a wide range of wooden USB sticks available, in different shapes and sizes and in a choice of environmentally-responsible woods – including FSC-certified maple (light wood) and walnut (dark wood), as well as fast-growing bamboo.  Not only are these wooden USBs beautiful to look at, they offer a tactile treat.
Various designs are available, including twister, swivel and capped versions.  Most models offer the latest USB3.0 "SuperSpeed" specification, which is up to 10 times faster than previous the USB2.0 level.
Depending on the model chosen, memory capacity in available in the range 128 Mb up to a whopping 64 Gb, and the flash drives can either be laser engraved or colour printed, depending on the type/colour of wood chosen and end-user's branding requirements.
Wooden USB memory sticks represent a perfect blend of technology and natural materials, making them an ideal marketing choice in the current business and political climate – perfect for organisations wanting to demonstrate a technical edge, whilst still being sympathetic to the environment.
Fore more details on these fantastic USB flash drives please contact Pennline today.  We wood love to hear from you!