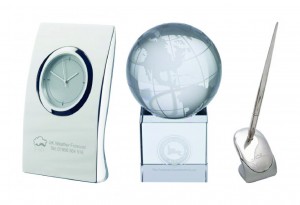 Pennline offers a range of premium promotional gifts  which represent the most desirable and cherished items that can be given as promotional gifts or corporate incentives.
In particular, glass and crystal items come in all sorts of shapes and sizes, with designs including awards, paperweights, clocks and pen holders. Such items will last a long time and be highly valued by their recipient, whether they are a high performing colleague, an important business partner, or a highly respected employee upon their retirement, for example.
Sophisticated engraving, etching and printing technologies mean that these glass and crystal gifts can be personalised with your chosen message, logo, date etc., making the presentation of such an item even more memorable and meaningful.
The selection of a suitably stylish and complementary packaging design gives you the opportunity for additional branding, as well as offering a suitable "wow factor" when the recipient opens the high quality box to reveal the gift inside.  Indeed, the careful choice of packaging can enhance any corporate gift or promotional marketing gadget.
In addition to glass and crystal items, other high end gifts include branded premium pens.  Pennline can supply premium writing instruments from brands including Cross, Parker and Shaeffer  these were featured in our blog in May.
So, when you are looking for that special corporate gift that is a cut above the rest in terms of quality, desirability and recipient appreciation, give Pennline a call and let us talk you through the options available.  Pennline – where the quality of our corporate merchandise is matched only by the quality of our service.