For several years Pennline t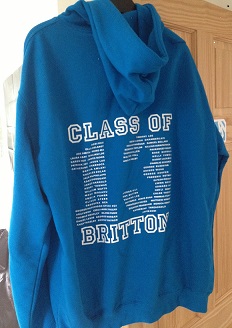 he East Midlands based clothing supplier have supplied hoodies for school leavers.
For Ratcliffe College the hoodies were supplied in a variety of different colours from Navy to Candy Pink.  Each hoodie were individually heat pressed with the year and "school nickname".
Pennline are in the process of preparing the 2013 Castle Donington Community College Hoodies.
Hoodie Description
Available in up to 50 Colours.
Each have a kanagaroo pouch pocket
Small hidden opening for earphone cord feed.
Range of Hoodies available including strings and zips.
To learn more about how Pennline can help you with your leavers hoodies please contact our sales team today!