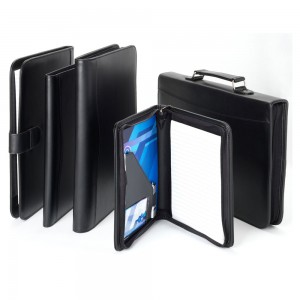 Creating the right impression at corporate events, whether they are conference, exhibitions, trade association meetings or new product launches, is a vital and high-profile marketing opportunity, requiring careful selection of the right promotional merchandise.
Pennline offers a wide range of items ideally suited to these events, including:
Pens – A huge number of designs to choose from, to suit any budget. Various colour options to suit corporate branding guidelines, with some of the more luxury models available in individual gift boxes.
Conference Folders – Available in plastic (PU/PVC), microfibre or full leather finish, these traditional conference essentials can be ordered in A4 or A5 sizes, with options including calculator/USB holders, smart phone/tablet holders, and zip closure to ensure everything stays where it should be.  In addition to the standard black folder, some designs can be selected in other colour choices.
Conference Pads – Various options are available, for example spiral bound or versions with pen holders, and offer excellent customisable printing possibilities to suit the occasion or target audience.
Bags – Useful for carrying brochures, handouts, samples or other "freebies", the range of bags available from Pennline includes high quality laminated paper bags, in a variety of sizes and with coloured rope handles, and eye-catching non-woven bags made from environmentally friendly recycled materials.  Messenger-style bags, with shoulder straps, are also available, and all bag options offer the ultimate in branding opportunities, thanks to their extensive printable areas.
Name Badges, Pass Holders and ID Card Holders – Avoid being just another anonymous face in the crowd with a high quality plastic identity badge.  These items are available in a variety of shapes and colours, with a choice of attachment methods, e.g. plastic clips, safety pins, lanyards etc.
All of these items can be personalised with a variety of printing options, to ensure that your company name or message remains in front of your customers or prospects long after the event has finished.
Contact Pennline today and our expert team will talk you through the range of products available, to help you make the perfect choice for a truly memorable event.