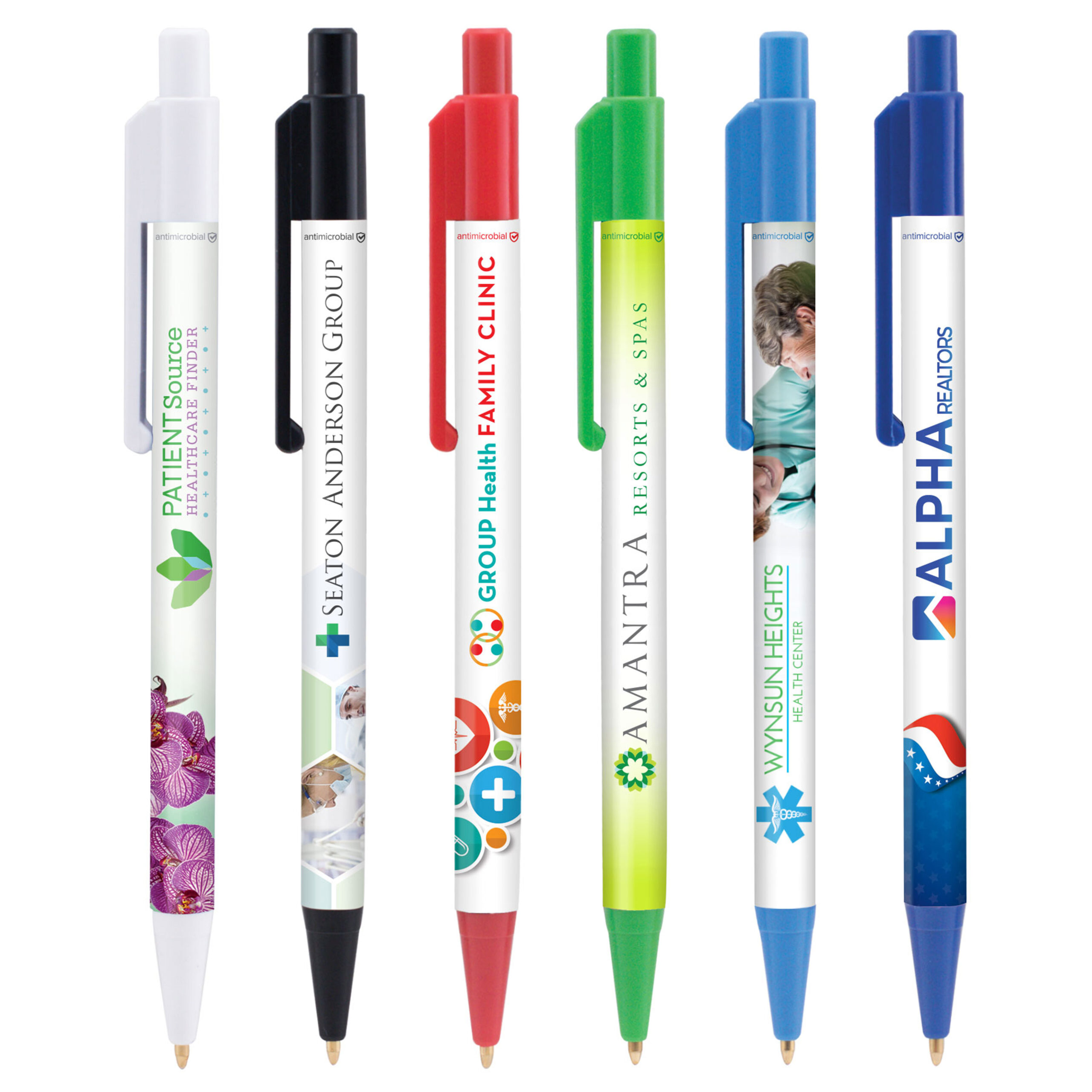 At a time when everyone is increasingly concerned about hygiene and safety, it is great to be able to inform you about two new ranges of pens that incorporate antibacterial additives that offer permanent protection against bacteria.
Leading manufacturer Bic® have released several of their popular designs under their antibacterial BGuard brand.  In common with most promotional pens, these can be digitally printed on the barrel, with no adverse effect on the antimicrobial properties.
The BGuard range has been classified as a biocidal product and its antimicrobial efficiency has been tested in accordance with ISO 22196:2011.  Importantly, the pens offer full protection over the lifetime of the product, so there is no reduction in antibacterial effectiveness over time and repeated usage.
A second manufacturer of promotional pens, Goldstar, has also introduced variants of its Chaplin Pen and Astaire Pen incorporating its Antimicrobial Additive.  The antimicrobial properties are thanks to the inclusion of silver ions into their barrels – this is the same technology used in other consumer products such as the familiar kitchen water filter jug and some deodorant sprays.
Like the Bic pens, these new Antimicrobial Additive Pens from Goldstar are certified according to ISO 22196:2011, offering 24/7 product protection for the lifetime of each pen.  The antimicrobial additive fights against the growth and transmission of over 99% of bacteria.
Goldstar pens are available in a range of Pantone shades and can be decorated with a full-colour 360 wrap foil- their so called Simplicolour digital technology – allowing product customisation over a wide decoration area.
The antibacterial pens clearly are not a substitute for good hygiene and cleaning practices, but they are intended to offer an increased level of protection for high-use situations such as reception areas, conferences schools etc.  However, these pens offer no protection against viral pathogens.
Please contact Pennline on 01543 224 333 or info@pennline.co.uk for more information about the antibacterial pens available.