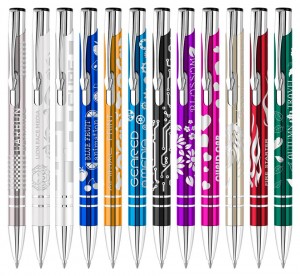 Amidst the bewildering array of promotional pens available to the corporate merchandise sector, there is one particular recent innovation that stands out from the crowd.
The "Electra" range of pens features high quality aluminium barrels with an attractive anodised finish.  Available as a ballpen, in a wide range of colours and featuring designs with or without stylus feature, or as a classy satin silver rollerball, these smooth-writing pens already have all the credentials of a great corporate gift.  Thanks to investment by the supplier, however, these pens can now be offered with high precision 360° laser engraving, meaning the entire circumference of the barrel can be printed with your company name, logo, tagline, phone number, website etc.  This increased branding area helps to ensure your organisation's name and contact information has much greater visibility than traditional giveaway pens.  The combination of metal barrel with engraved, rather than screen printed, logos means these pens will be hard wearing and long lasting, to making them suitable for all professional applications.
Available with short lead times and competitive pricing, these Electra pens are part of Pennline's extensive range of corporate merchandise, so contact us today to find out more about these exciting new products.
Pennline – putting the "Penn" into the promotional merchandise market!