Last week's blog talked about the ongoing importance of the promotional pen as a popular and value-for-money marketing giveaway.
The choice of promotional pens is vast, and there are always new design concepts being added to the market, to reflect latest trends, materials and manufacturing methods.
Metallic finishes and precious metal coating give an eye-catching and premium appearance, with black and gold designs proving particularly popular.  Examples include the Conran Gold ball pen, the Elance GT and the Ballad Gold ballpen, all of which have black-coated brass barrels that complement the gold trim when engraved.
Other new pen additions include the Phone-up Ball Pen, a multi-functional pen available in four colours that combines a screen cleaner, a stylus, a simple phone stand and a ball pen all in one design, which can be printed on the barrel and the clip with your logo or branding message.
The Tilt 3-in-1 Pen (picture shown above) offers the convenience of black ink, red ink, or a 0.7 mm propelling pencil, all dependent on which direction the pen is tilted in. Clever stuff!
Other multi-function promotional pens combine useful tools, such as screwdrivers, spirit levels and rulers and some even feature a small LED torch at the end.
The Sprint Highlighter Pen is a translucent plastic ball pen, available in six different colours, with a slimline curved shape and a capped yellow highlighter on the top.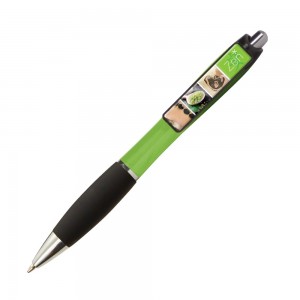 Available from mid-October, the Domed Curvy Ballpen is available in an impressive eight trendy colours (shown in green).  It features the popular curved shape found on many modern pen designs, and the clip can be personalised with a full colour domed logo.
For more information on any of these new pen designs, please contact Pennline today.