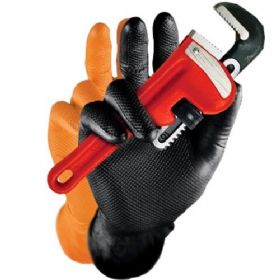 Pennline is now able to supply a new design of PPE glove, manufactured by Warrior, featuring a patented double-sided grip which has been optimised with a unique "fish scale" design.
This latex-free glove is made from 100% synthetic nitrile material and is suitable for numerous applications, including industrial, agricultural, construction, DIY and domestic uses, amongst many others.
Currently available in three colours – black, orange, and blue – these"semi- disposable" gloves can be ordered in sizes 7-11.
The black and orange variants are 24cm long, boxed in 50s with 10 boxes to a case.
The blue gloves are 30cm long and intended for food grade applications.  They are supplied in poly-bags containing 24 pairs of gloves, with 10 bags to a case.
These gloves are categorised as Category 3 (PPE of complex design) according to PPE Directive 89/686/EC, and confom to the relevant British Standards relating to glove performance, including protection against mechanical hazards, chemicals and mico-organisms, and resistance to penetration.
The blue food grade gloves conform to the relevant UK and US standards relating to materials and articles in contact with foodstuffs.
For more information about these fantastic gloves or any other item from our extensive range of personal protective equipment, please get in touch with us on 01530 224 333.